We awoke to find a grey and drizzly day looming. The weather reports had shown we were in for a wet Easter, so we felt lucky to have dodged rain for the last couple of days.

After breakfast in the apartment we decided to head into Rockhampton to have a look around and find "something" to do. Before that though we knew we wanted to visit a French Patisserie/Providore for morning tea.
Baked on 44 did not disappoint. I chose an Apricot Danish and M had a Vanilla Cannoli. I forgot to take pictures but you can be assured they were both perfect. The range of goods in the shop was extensive with something for everybody.
We decided to go to the Rockhampton visitor information centre to get some inspiration for the days activity. The information centre is location ON the tropic of Capricorn and its Spire acts as a sundial to show Earth's movement around the Sun.
With the main street of Rockhampton being closed today due to the Rocky Nats car festival, we decided to take a drive out to Mount Morgan. It is a fairly short 35-40 min trip. About half way the road climbs up the range with a stretch of highway that is very steep and windy. Luckily the speed limit is only 40km/h and it was not too scary 🙂
We stopped at the Mt Morgan Lookout at the top of the range. This lookout was designed to replicate a mineshaft and provides a great view over the valley toward Rockhampton. I am sure on a fine, sunny day we would have a much better view.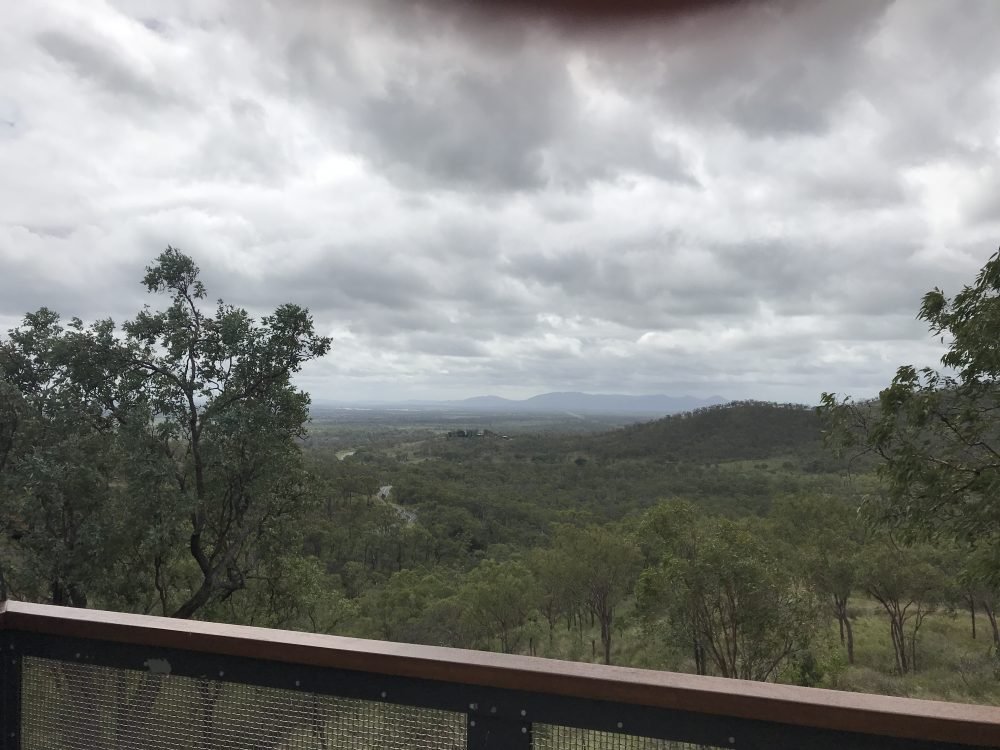 We arrived in Mount Morgan shortly after and found the bakery for lunch. Mount Morgan is a typical Aussie country town, with a number of historic buildings. Sadly (as is often the case when we travel at Easter) many of the attractions and museums were closed for the holiday. We sat at a picnic table to have our pies before heading back toward Rockhampton and home.
The trip back toward the coast was a bit slower as it was raining most of the way. We got back to the apartment shortly before 4:00, did a load of washing, prepared dinner and had a quiet night watching TV.
We were just about ready to turn in when we heard "boom boom boom" I realised it was 9:00 and the noise would be fireworks from the "Easter Extravaganza" at Emu Park. We opened the front door of the apartment and sure enough the sky was filled with colour. Just about everybody from the resort was out watching – most in our pj's. We enjoyed the show for about half an hour before finally going to bed.