Any travel through this CoVid time is a challenge, but we had decided that we did need a break but we would need to stay within Queensland.
We chose Rockhampton as it had been a long time since either of us had been in the area. A quick "Google" showed lots to do and see, but on further investigation we could not find accommodation. I knew Yeppoon is the beachside locale of Rockhampton so decided to look there… Still not a lot available but I knew Easter would be a very busy time. I finally found "Salt Yeppoon Apartments", a newish resort right on the oceanfront. It promised that every room has an ocean view. A few clicks and we were booked in a 1 bedroom apartment for 5 nights.
This holiday is going to be a little bit of a different "foodie adventure" I found lots of interesting cafes in Yeppoon, so we have chosen not to take too much in the way of food with us. Normally we tend to self cater (especially breakfast) and take food from home to cook in the apartment. This trip we are only taking milk, bread, butter, tea and condiments. We have packed a full day's food for Good Friday as we know that most places will be closed.
The week prior to this trip saw 2 CoVid clusters form in Brisbane and a subsequent 3 day lockdown of the greater Brisbane area. While we do not live in the lockdown area, there was a chance that the area may be adjusted to include the Sunshine Coast if more cases emerged. This would have meant that we would be unable to leave 🙁
Through the week there were no Sunshine Coast cases, although a couple of concerning reports of a man who had tested positive had visited premises on the route we were due to take. As we were due to leave on Thursday morning and the Chief Medical Officer was to due to give her recommendations as to the lifting of lockdown at 9:00am Thursday we decided to risk it and go, knowing that we would only be a couple of hours away from home when the news was announced. and if we needed to return, it was not too far to go.
Thursday morning we left early as planned and were on the road just after 7:00am.
It is an approximately 7 hour – 650km drive to Rockhampton/Yeppoon but as we are very familiar with the road for the first 300kms between the Sunshine Coast and Childers, the plan was to stop at the roadhouse at Gunalda, get a cuppa and wait for the news at 9:00 then head straight to Childers for morning tea, then we would "amble" the next 350kms, stopping if we saw anything interesting.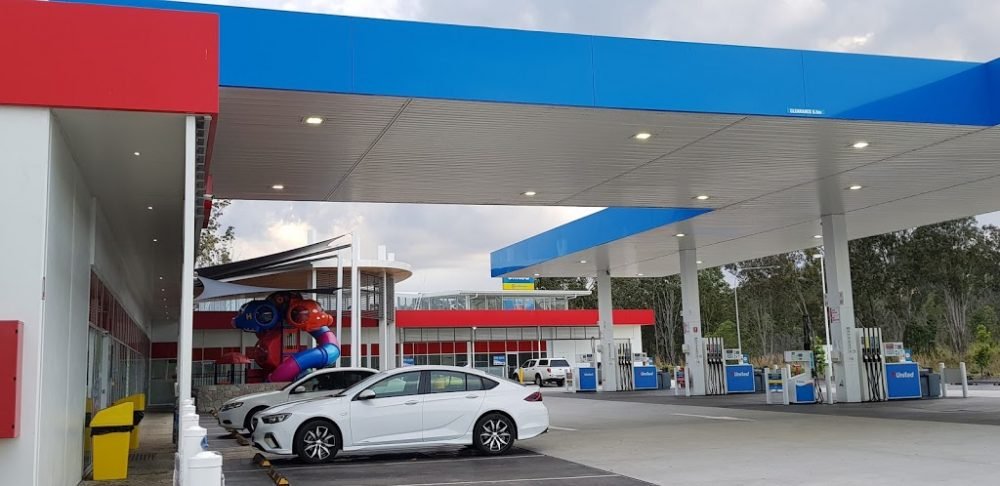 We arrived at Gunalda at 8:50, just enough time for a stretch of the legs, a bathroom break and a hot drink while we waited for the 9:00 news.
The news was GOOD!!! The Premier announced that Brisbane was allowed out of lockdown early at midday and Easter is "good to go!"
This news was indeed good, and I felt much better knowing that we were not likely to have any issues, and the mandated mask wearing for the next 2 weeks is not a big problem.
Our next stop was the Childers Bakery Sandwich Bar for an early lunch. M stops here most weeks on his delivery run to Bundaberg, so I thought it was about time I experienced their food 🙂 I had a bacon and cheese sausage roll that was indeed VERY good 🙂 We also bought a loaf of fresh bread and a couple of HUGE sandwiches that would be dinner.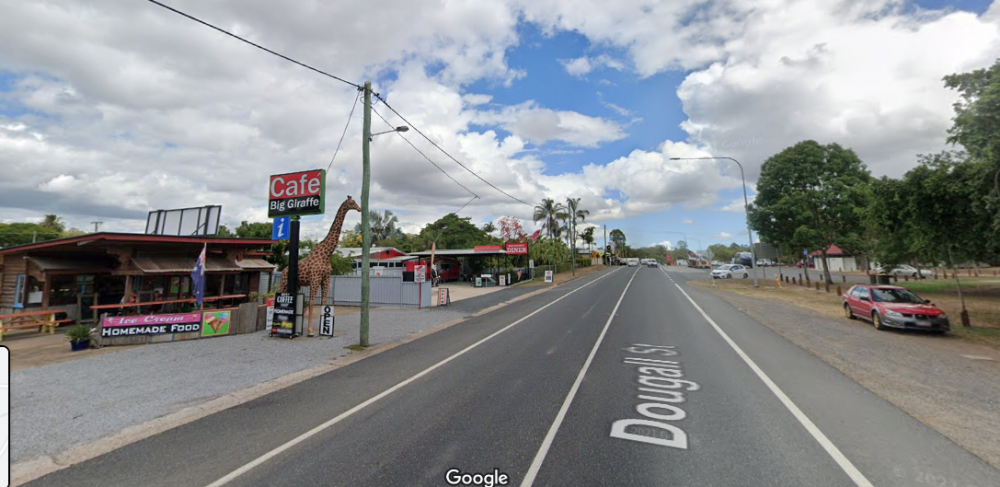 Travelling north, we passed through the town of Gin Gin. We did not stop as we had been here not to long ago. We thought we might stop at Miriamvale but decided we did not need to so kept going. A little way further north we came to Bororen and a "Big Giraffe" The cafe must be good as the carpark was packed as was the road in front 🙁 We pulled over at the park across the road to use the amenities and kept heading north. I am hoping we can check out the "Big Giraffe on the way south.
We stopped for a "driver reviver" free hot drink at Calliope. This stop was in the Calliope Historic Village. I dropped a few coins into the donation box and we sat and enjoyed our cups of tea. The men in the kiosk asked where we were travelling to, and when we said said Rockhampton, they asked if we were coming for the "Rocky Nats" We said no ( as we had no idea what that was) They explained that there was a huge car show and race meet thing happening. When I looked it up I understood why I was not able to find accomodation.

As were were having our drinksI could see there was a number of caravans down by the river to the west, so when we were back in the car, we went to have a look. We duly found the Calliope River Campground. This is a such a lovely spot and I would imagine it would be a relaxing spot for a few days.
A bit further north we passed an intersting looking sign that alerted us to beware of trucks carrying explosives?? In the distance to the west we could see a number of buildings and a very secure looking fence on the highway. Google told us that the area is the site of a Queensland government explosives reserve. (Who knew)
We rolled into Rockhampton around 3:00pm (right in time for school pick up time) Traffic was quite heavy but we made it through Rockhampton and on to Yeppoon. We made a quick stop off at Woolworths to pick up some provisions and we checked into our apartment just after 4:30. We had a quiet night after our big drive.